New York Photos of the Week, September 14th – September 20th
Monta Ellis, Milwaukee Bucks to Dallas Mavericks: The enigmatic gunslinger didnt get the money he hoped for in free agency, but he landed with a Mavericks team that could use his scoring from the perimeter. Benny Sieu, USA TODAY Sports 18. Greivis Vasquez, New Orleans Pelicans to Sacramento Kings: An accessory in the Tyreke Evans sign-and-trade deal, Vasquez led the NBA last season with 704 assists (9.0 a game). Anthony Gruppuso, USA TODAY Sports 19. J.J. Redick, Milwaukee Bucks to Los Angeles Clippers: After a half-season in Milwaukee, one of the NBAs best shooters will be a perfect role player for the contending Clippers. Jeff Hanisch, USA TODAY Sports 20. Jarrett Jack, Golden State Warriors to Cleveland Cavaliers: After finishing second in sixth man of the year voting last season, Jack will back up oft-injured Kyrie Irving for the now-loaded Cavaliers. Kyle Terada, USA TODAY Sports 21. Robin Lopez, New Orleans Pelicans to Portland Trail Blazers: Overshadowed by twin Brook Lopez of the Nets, the defensive-minded center should be exactly what the Blazers need after starting J.J. Hickson last year. Jayne Kamin-Oncea, USA TODAY Sports Fullscreen 22. Jared Dudley, Phoenix Suns to Los Angeles Clippers: After five years of quietly establishing himself in Phoenix, the small forward should be a starter and key support piece for the contending Clippers. He came over in the same three-team trade as J.J. Redick. Mark L. Baer, USA TODAY Sports Fullscreen 23. Thomas Robinson, Houston Rockets to Portland Trail Blazers: The No. 5 pick of the 2012 draft already has been traded twice, but the former Kansas power forward has a lot of potential. Will he mature enough to put it together? Troy Taormina, USA TODAY Sports 24. Corey Brewer, Denver Nuggets to Minnesota Timberwolves: The small forward returns to where his NBA career started and seemed to fizzle.
Spiller and Fred Jackson in check all afternoon. Demario Davis:A- This was a bit of an odd game for Davis. Known as the linebacker who is superior in coverage, he was abused by Scott Chandler on a few completions late in the game.However, he was exceptional against the run, recording six tackles and doing a tremendous job of covering running backs in space. Josh Mauga: N/A Mauga filled in for a few plays while Harris was dealing with a leg injury, but he did nothing noteworthy. Robert Deutsch-USA TODAY Sports Calvin Pace: A This was one of the best games Pace has ever had as a Jet. He recorded a sack, did a terrific job in coverage and set the edge in the run game. He also led the team in tackles with eight.Somehow, Pace has found a way to improve his game with age. Quinton Coples:B Coples played in a limited role in his first game back form injury. He did not record a sack, but he did play the run well, adding a tackle-for-loss. Antwan Barnes: C+ Barnes was a bit quiet on the pass-rushing front, but he did add a key pressure at the end of the game that helped seal the win. He also set the edge well in the run game. McIntyre only played in a handful of snaps, recording a pair of tackles. Anthony Gruppuso-USA TODAY Sport Antonio Cromartie: B+ Cromartie continues to get a bit better as he continues to to heal his nagging hip injury. He only allowed a few completions in his direction on Sunday. He blanketed Stevie Johnson for most of the game, but he was also the victim of a pass interference penalty.Cromartie also saved six points when he chased down Fred Jackson from behind. Dee Milliner: A- Rex Ryan 's benching tactics appear to have worked.
Buffalo Bills vs New York Jets: Full Roster Report Card Grades for New York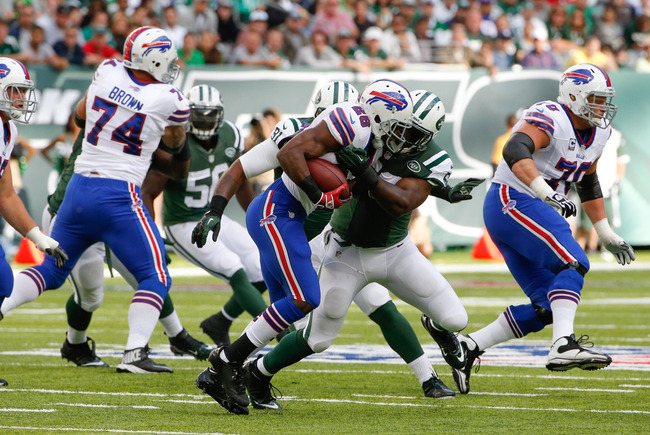 Mr. Cotzojay has been working at Bedell since 2005, when he answered an ad for a worker that had been posted in the local paper. (Gordon M. Grant for The Wall Street Journal) Michal Litwiniec, left, Marek Otwinowski, Pawel Czepukowski and Igor Gawlikowski, members of the Polish group Karbido, rehearse at their musical table, which has a bass attachment and hidden strings. The group performs in the U.S. for the first time this week. (Keith Bedford for The Wall Street Journal) Participants in Harlems African American Day Parade are pictured Sunday. Former city Comptroller Bill Thompson appeared at a breakfast for the eventon Monday announced he would be bowing out of the race for mayor. (PJ Smith for The Wall Street Journal) Former World Wrestling Foundation wrestler Bruno Sammartino is pictured with memorabilia at the Italian American Museum in New York on Sunday. Columnist Ralph Gardner met the wresting legend during Little Italys San Gennaro festival. (Keith Bedford for The Wall Street Journal) The blistered shishito peppers at Milkflower, a new pizzeria in Astoria, Queens, owned and operated by brothers Peter and Danny Aggelatos. (Adrian Fussell for The Wall Street Journal) From left, Atlas Social Club owners Asi Mazar, Josh Wood, Pablo Raimondi and Benjamin Maisani pose for a photo. The quartet is targeting sophisticated, older-than-35 gay men hitting the town.